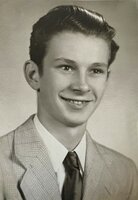 Chester A. Raszka
Chester Raszka, 82 of Woodstock, passed away peacefully at home after a long illness. Born in Webster, MA the son of the late Margaret (Mary) (Emerick) and Theodore J. Raszka Sr. Mr. Raszka was raised in Thompson and lived the majority of his life in Woodstock.
"Chet" was a retired Connecticut State Trooper, joining the force in 1964 and retiring at the rank of Trooper First Class in 1987. He was predeceased by his wife Janice (LaBranche) in 1996. They were married for 32 years. A graduate of the Putnam Trade School, Mr. Raszka was an avid and accomplished carpenter. He restored his antique home in Woodstock and created many furniture items for his and the homes of his children. Affectionately known as "Bagga" and "Grumpa" to the grandkids, his trademark tattered & ratty RedSox bucket hat was never too far away. Neither were the crossword and word jumble in the daily paper and a deck of cards for solitaire or Scat. Jan and Amy were the two who knew how to get through his tough exterior the best.
He is survived by his brother, Theodore Raszka Jr. of Salem, Oregon and his sister Katherine Stone of Webster Massachusetts; his son Scott Raszka and wife Maria of Woodstock; his son Brian Raszka and wife Deana of Reno, NV; his daughter Stephanie Arsenault and husband Michael of Danielson; and his youngest daughter Amy Raszka and husband Kurt Newton of Woodstock. He is also survived by his grandchildren: David; Aaron; Noel; Jacob; Tristan, and Janek; his great-grandchildren: Allison; Rylee; Natalie; Cameron, and Thomas; and several nieces and nephews.
A memorial service will be held at Smith and Walker Funeral Home, 148 Grove St. Putnam on Friday, October 29th. Calling hours are 9:30 to 10:30 am with service directly following. For the protection of everyone attending, it is requested that all wear a facial covering/mask.
Burial will be private.
In lieu of flowers, donations may be made to Day Kimball / NE CT Hospice. Share a memory at Smithandwalkerfh.com