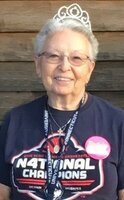 Jacqueline P. Walker
Jacqueline P. Walker, age 84, passed away peacefully at home on November 1, 2021, surrounded by her loving family who cared for her until the end. She fought a fearless battle with cancer. She was born in Killingly, CT on July 26, 1937, a daughter of the late Joseph Provost and Therese (Mailloux) Provost. She married Thomas (Pete) C. Walker on April 2, 1980. They resided in California, Florida and Connecticut during their retirement years.
Jackie cherished spending time with her family and always welcomed others to her home. She hosted "Family Night" on Thursday evenings as well as many family birthday parties. She was fortunate to have had all her children, grandchildren and great grandchildren celebrate her 84th birthday in July. She had a wonderful sense of humor and enjoyed having a good time. She was an enthusiastic UCONN Women's Basketball fan and attended the final four championships from 2013 through 2019. She enjoyed watching sports and was a Patriots and Red Sox fan.
Jackie was a Past President of VFW Post 2650 Ladies Auxiliary in Danielson. She worked at Killingly High School, Danielson Curtain, Mr. B's Restaurant, MayGold Farms and Mozzarella's Restaurant. She volunteered at St. James Church and Pourings and Passages bookstore. She and Pete traveled worldwide from 1980 through 2002 visiting Ireland, Greece, Egypt, Alaska, Africa, Asia, China, Japan and the Caribbean. Her last trip was to Italy in 2017 with some family and friends. She was an avid reader and enjoyed sewing, crocheting, knitting, bowling and bingo.
She is survived by her children Elizabeth Sheldon (Charlie Lee), Nancy Cole (Stephen Schroth), Shelley Keefner (Edward), Maurice Dion, Jr. and Paul Dion (Carla Page). She is also survived by her grandchildren Jaime Chase (Darren), Dione Benjamin, Benjamin and Jennifer Davidson, Megan Dion, Caidence, Bree, Nila, Madison, Emerald and Payten Keefner and her great grandchildren Alexandria Davidson, Gregory Arnold, Tatyanna and Makayla Gerrish, Harris and Declyn Benjamin and Decatur and Ava Chase.
She is also survived by her brothers Paul Provost and Lucien Provost and sisters Paulette Sawyer and Jeanne Carpenter.
She was predeceased in death by her parents, husband, brothers Paul Provost, Rene Provost and Richard Provost and sister Pauline Peloquin.
Jackie was a communicant of St. James Church. In Lieu of flowers, memorials may be made in Jackie's name to the St. James Parochial School, 120 Water Street, Danielson, CT 06239. The family would also like to thank the Dana Farber Cancer Institute and Beacon Hospice for their excellent Care.
A Mass of Christian Burial will be Saturday, November 6, 2021 at 10:30 AM at St. James Church, 12 Franklin Street, Danielson, CT. Burial is Private at the Veterans National Cemetery in Bourne, MA. Share a memory at Gagnonandcostellofh.com