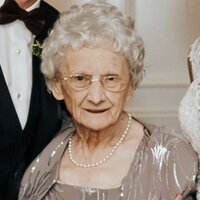 Jeannette H. Renaud
Jeannette H. (Morneau) Renaud "Meme" 93, of Brooklyn CT, went "home" to be with her Lord and Savior Jesus Christ, at Windham Hospital, on Monday, October 11, 2021. She was born on December 7, 1927, to the late Paul and Theresa (LaRoach) Morneau of Southbridge, MA. She was one of fifteen children. She was raised and worked on her family's dairy farm in Southbridge.
She was married to the late Charles E. Renaud, Jr. on November 27, 1952, at St. Mary's Church in Southbridge and later moved to Brooklyn, Ct, where she lived for more than sixty-five years.
In addition to her husband of 55 years, she was predeceased by nine siblings.
She worked at the old Gant's shirt factory in Wauregan, CT for many years where she was employed as a seamstress. She loved to crochet and knit most of her life. She enjoyed making things for her family and friends. She made the best homemade bread amongst many dishes and desserts she spoiled her family with.
She was a devout Christian and a communicant of St Joseph church, Dayville, CT. until it's closing. She spent her life committed to prayer and helping others who were less fortunate. She never had much of life's earthly possessions, but she always found a sale and was happy to share what little she had. She found her peace and joy in her faith in God. She devoted herself to the raising and care of her family and considered herself blessed.
She is survived by her son Gerard C. Renaud and his wife Kim, along with her grandson Bryan G. Renaud and great-grandson Charles G. Renaud, all of Escondido, CA. She is also survived by her granddaughter Shawna Cronin, her spouse Meghan, and great-granddaughter Gabrielle Silvia, of Portsmouth, RI.
She is also survived by her daughter Diane Beardslee and her husband William, her grandsons Ethan of Brookville, NY; Alex and his wife Kristen of Locust Valley, NY; and Collin of Cutchogue, NY.
A Mass of Christian Burial will be Friday, November 26, 2021 at 10:00 AM at St. James Church, 12 Franklin Street, Danielson, CT, burial to follow in Holy Cross Cemetery. Share a memory at Gagnonandcostellofh.com