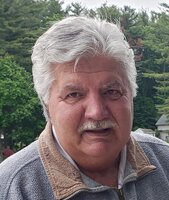 Mariano E. Palumbo
Mariano E. Palumbo, 72, of Brooklyn, CT passed away November 3, 2021 at Lawrence & Memorial Hospital in New London, CT. He was born August 3, 1949 in Riardo, Italy, son of the late Luigi and Conchetta (Bonafiglia) Palumbo. He was the beloved husband of Sandra (Auger) LaBelle.
Mario immigrated from Italy when he was ten years old with his parents and younger brother Jerry. He lived in Meriden, CT for many years and was a business owner. He was very involved with the community events. He then moved to Westerly, RI working at Foxwoods for over ten years as a Floor Supervisor. After he moved to Brooklyn, CT he worked as a Home Improvement Contractor until he retired.
Mario loved spending time with family cooking Sunday dinners. He enjoyed boating, fishing and living at the lake surrounded by family and friends. He was an avid sports fan cheering on the Patriots, Yankees and his Italy Soccer Team.
He leaves his wife Sandra LaBelle; his children Mario Palumbo (Jessica); Pilar Palumbo Moran (David) and Dannette Nocera (Dave); his stepchildren Laurie LaBossiere (Glenn), Carrie LaRoche (John), Benjamin LaBelle (Katie Spenard) and Scott LaBelle (Lauren); his brother Jerry Palumbo (Janie Grazioso); his nephew Michael Palumbo.He was also blessed with 16 grandchildren and 4 great grandchildren.
A Mass of Christian Burial will be Saturday, November 13, 2021 at 11:00 AM in St. Catherine of Siena Church, 243 Route 164, Preston, CT. Share a memory at Gagnonandcostellofh.com