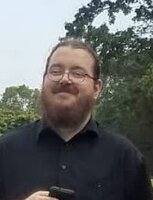 Ian Poudrette
Ian Cameron Poudrette, 30, of Danielson died unexpectedly on November 15, 2021. He was born in Putnam on October 6, 1991, son of Steven and Donna (Dexter) Poudrette.
Ian was a brilliant and creative cook, an avid reader, loved music, and playing hand drums. He was a free and deep thinker who enjoyed online gaming with his friends.
Besides his parents Steven and Donna, he leaves his maternal grandmother Mary Graley of Plainfield, paternal grandmother Shirley Roy of Danielson, grandmother Colette Poudrette, aunts, uncles, numerous cousins and friends. He was predeceased by maternal grandfather Wesley Dexter, paternal grandfather Armand Poudrette and his sister Jessica Dexter she died in 2002.
Calling hours will be Tuesday, November 23, 2021 from 5:00 to 7:00 PM at Gagnon and Costello Funeral Home, 33 Reynolds Street, Danielson, CT, with a service at 6:00 PM. There will be a memorial service on December 4, 2021 at 12:00 PM with a reception to follow at Goshen Hill Church, 157 Church Road, Lebanon, CT. Share a memory at Gagnonandcostellofh.com