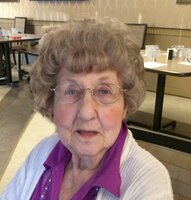 Elaine Couillard
Elaine F. Couillard, 87, of Danielson, CT, died Tuesday, December 7, 2021 at Davis Place in Danielson, CT. She was the wife of Joseph R. Couillard, they were married July 16, 1955 at St. James Church in Danielson, he died February 27, 2009. Elaine was born in Providence, RI on June 23, 1934, daughter of the late William and Florence (Borden) Pendleton.
She was a loving and caring person who loved her family and friends. Over the years, Elaine enjoyed camping, dancing, playing cards and the stock car racing.
She leaves her sons David Couillard and his wife Deborah, James Couillard and his wife Drinda; her stepsons Mark Couillard and his wife Eva, Richard Couillard and his wife Jean; 7 grandchildren; 12 great grandchildren, many nieces and nephews and her three stepsisters Susan, Linda and Charlotte Carr.
She was predeceased by her husband of 53 years, her sister Ann Pendleton and her brother Thomas Pendleton.
A Graveside Service will be Saturday, June 18, 2022 at 11:00 AM at Holy Cross Cemetery, Danielson, CT. Share a memory at www.gagnonandcostellofh.com