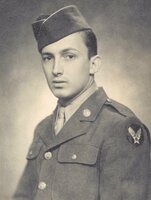 Francis E. Bannister, Jr.
Francis E. Bannister Jr. - known by many as Bud Bannister 97 died 12.26.2021 at Hartford Hospital. Born in the Dudley area of MA, he was the son of the late Olive (Moir) Bannister and Francis E. Bannister Sr.
We thank Bud for his devotion to his country as a World War II veteran and for the support that he provided to his family. He will be missed by those whose lives he touched. With kindness and love may he rest in peace.
He is survived by four daughters, several grandchildren, his brother as well as nieces and his nephew. He is predeceased by his sister Mildred Lupa otherwise known as "Sis".
In respecting Bud's wishes public funeral services are omitted. His arrangements have been entrusted to the Smith and Walker Funeral Home. Donations in his memory may be made the Alzheimer's Association – 225 N. Michigan Ave, Fl. 17 Chicago, IL 60601 or at https: //www.alz.org/ct - Connecticut Chapter.