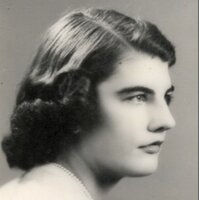 Constance Salvas
Constance "Connie" Salvas of Danielson, CT passed away Friday, January 7, 2022, surrounded by her loving family. Connie was born on January 18, 1936 in Hartford, CT. She attended St. James School, graduated from Putnam Catholic Academy and was a lifelong member of the St. James parish. Connie worked many years as a bookkeeper first at Bonneville's Pharmacy, then at Allard's Bell Park Pharmacy, and finally retiring from Daniel's Pharmacy.
She is predeceased by her husband Leonard A. Salvas (2009), mother Claire Morrissette and siblings Armand, Gerard, Edgar, John, Blanche, Cecile and Rachel. Connie leaves her four children Glenn Salvas (Peg), of Manchester, CT; Kelly Salvas and Kim Salvas of Danielson, CT; Suzanne Rhodes (Ted) of Sterling, CT; her four grandchildren, Chelsea Champagne (Joe), Alexandra Rhodes, Jacob Mayo and Jason Mayo; one great-granddaughter Catherine Mayo and was looking forward to the birth of her great-grandson. In addition to her immediate family, Connie leaves many beloved sisters and brothers-in-law, cousins, nieces, nephews and long-time friends.
Connie will be remembered for her love of the beach, Patriots football and UCONN women's basketball, family time at Alexander's Lake, and deserts. People will also remember her driving through the eastern CT countryside with her children and grandchildren, dancing with friends at senior dances, and the many wonderful vacations shared with family and friends—especially the ones on the sunny Caribbean islands.
The family thanks Dr. Joseph Botta and Pierce Memorial Baptist home for the incredible support, help and kindness given to Connie in her later years.
A Mass of Christian burial will be Saturday, January 22, 2022, at 10:00 AM at St. James Church, 12 Franklin Street, Danielson, CT, burial to follow in Holy Cross Cemetery. In lieu of flowers please send a donation to the charity of your choice. Share a memory and watch for any postponement announcements due to COVID at Gagnonandcostellofh.com