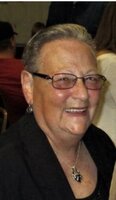 Lonine Rapp
Lonine Rapp (Means) 1946-2022
Lonine "Loni" Rapp passed away peacefully at home on Saturday, January 29th after a long battle with cancer. She was a great prayer warrior and had a love for her Lord and Savior. In recent years she was a member of Lighthouse Church in Plainfield, CT.
Born in Fresno, California she was the daughter of the late Alonzo and Floyetta (Conrad) Means, and lived in California until she married John Hardell and moved to CT.
Loni remarried in 1986 to James Rapp and they were longtime residents of Putnam, CT. She later moved to Danielson after her husband passed in 2016.
She was employed at Staples Warehouse and Distribution from 1988 until she retired.
Loni was predeceased by her husband James; her parents and two siblings Ronald Means and Glenda Allison. She is survived by her son John Hardell, his wife (Lynn) of Canterbury; two grandsons, John and Luke Hardell. Her longtime friends who she adopted in her heart as another son & daughter in law; Rick Pellerin, his wife (Kathy) Pellerin of Thompson and their family. Sister Judy (Dave) Murphy of Fresno CA, Sister Charlene Campbell of Louisiana; Many nieces and nephews. Her best friend for over 30 years Stella Kwasek as well as many other close friends.
The family would like to thank the entire Oncology staff at Day Kimball Hospital as well as the wonderful Hospice nurses and Health care workers.
A small memorial service will be held in the spring.