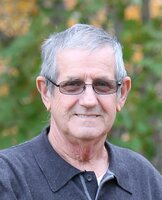 Rene Bates, Sr.
Rene Bates, Sr., 74, of Danielson died February 16, 2022 at Hartford Hospital. Beloved husband of the late Linda Bates. He was born February 21, 1947 in Putnam, CT, son of the late Richard and Mary (Michon) Bates.
Rene served his community through the Fire Service, serving West Thompson, East Putnam and Retiring from Danielson. He liked to do word searches and loved to work on cars with his sons, loved NASCAR and enjoyed car and tractor trailer truck models. Rene was a hands-on kind of guy and taught his sons how to fix cars that way. He enjoyed watching his grandchildren and great grandchildren play sports they were in, he always cheered for them. Rene was proud of his family and enjoyed spending time with them. Renes one true love of his life was his wife Linda Bates married 56 years. It was a love we kids knew was true love.
He leaves six children, Richard Bates of Plainfield, CT, Mary Bates of Danielson, CT, Michael Bates and his wife Lisa Bates of Tennessee, Rene Bates and his wife Elizabeth of Putnam, CT, Randy Bates of Danielson, CT and Robert Bates of Chaplin, CT, brother Anthony Bates and his wife Gloria of Woodstock, CT, 17 grandchildren and 19 great grandchildren.
A calling hour will be Wednesday, February 23, 2022 from 11:00 to 12:00 at Smith and Walker Funeral Home, 148 Grove Street, Putnam, CT, followed by burial in Westfield Cemetery, Danielson, CT. Share a memory at SmithandWalkerfh.com