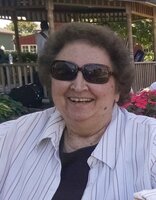 Nancy White
Nancy A. White (Aurilio) 86, of Brooklyn, died April 23, 2022 at Day Kimball Hospital in Putnam. Beloved wife of Frederick M. White, Sr., she was born in Bridgeport, CT on April 5, 1936, daughter of the late Frank and Mildred (Davis) Aurilio.
She received her Bachelor's degree and Master's degree from Willimantic State Teachers' College/Eastern Connecticut State University. Nancy spent 40 plus years as a classroom teacher and tutorial specialist in several school districts including Eastford, CT, Killingly and with her vast majority of her career serving in the Brooklyn, CT, public schools. Teaching and helping students were, by far, great passions for her. Nancy's other passions included gardening, making their home beautiful, spending wonderful vacations on Cape Cod, and enjoying friends and family, in abundance.
She leaves her devoted and loving husband of 64 years, Frederick M. White, Sr., of Brooklyn, son, Frederick M. White and his wife, Michelle of Oakdale, CT, beloved grandchildren, David White (Stephanie) of Vernon, CT, Kylie White (Chris) of Dayville, CT, Melissa Seidel (Tyler) of Salem, CT. One of the great joys of her later life was welcoming her four great grandchildren, Victoria Palin and Sophia White of Vernon, CT, Piper and Griffin Shea of Dayville, CT, sister Edith Aurilio Lacey of Wallingford, CT, sister-in-law Alice Cobb Aurilio of Swansboro, NC. Nancy is predeceased by her sister, Joan Merrill and brother Frank Aurilio.
A private service was held at Gagnon and Costello Funeral Home, burial followed in South Cemetery, Brooklyn, CT. In lieu of flowers donations can be made to Hospice of NECT, PO Box 632, Putnam, CT 06260. Share a memory at Gagnonandcostellofh.com