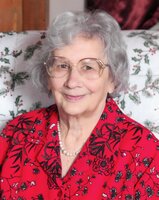 Elizabeth C. "Betty" Johnson
Elizabeth (Betty) Collins Johnson was
Born in Willimantic to the late J. Addison and Ruth Niles Jackson on December 23, 1928. She died May 13, 2022.
She was adopted in 1930 and lovingly raised by Donald and Alma Manning Collins of Bloomfield, CT.
Betty attended Bloomfield schools, Northfield Mount Hermon preparatory school in Massachusetts, and graduated from Windham High School, class of 1947.
She was married to the late Hadley P. Johnson in Franklin in 1948. They shared nearly 57 years together before his passing in 2005.
Together, they owned and operated 2 trucking businesses in Franklin and Windham, CT, from 1953 until 1980.
Mrs. Johnson served on the executive boards of the New London County TB Association, the American Cancer Society, and the greater Willimantic Chamber of Commerce.
She also served on the Franklin Board of Education, as the clerk of the North Franklin Post Office from 1958-1964 and wrote the Franklin news column for the Willimantic Chronicle and the Hartford Times.
Long active in Democratic politics on local, county, and state levels, she was appointed to a number of positions.
Named by then Governor John Dempsey to be the only layperson from eastern Connecticut on the State Clean Air Task Force, she also served on the Solid Waste subcommittee of that group, as well as the Task Forces' speakers bureau. She later served as Secretary of the Interim Legislative subcommittee studying solid waste problems in Connecticut.
As a member of the Franklin Congregational Church, she taught Sunday School, and helped to raise the funding for the basement addition to the church.
She enjoyed spectator sports of all kinds, particularly college basketball, and was an ardent crossword puzzle solver.
In addition to her late husband Hadley, she was predeceased by her oldest son Donald, sister Mary Sylvia, and brother Fred Jackson.
She leaves her sisters Ann Gozewski of Massachusetts, and Rebecca Paynter of Bermuda.
Also left to miss her are her children, Carla Johnson (Bob Kimble) of Brooklyn CT,
Colin Johnson (Ellen) of Havelock, NC, Marc Johnson (Cindy) of Plainfield, CT, Rebecca Collins (Michael) of Canterbury, CT, Pam Lewerenz (John) of Carolina Forest, SC, and her son Eric Johnson and wife Jennifer, with whom she made her home, and who cared for her so wonderfully.
She leaves 17 grandchildren, Karin Hall, Hillary Watson, Aaron Johnson, Kristen Sullivan, Derek Johnson, Shannon Fontenot, Denae Abate, Brook Cresser, Kate Knoblauch, Maxwell Johnson,
Lance Collins, Stacey Collins, Amanda Collins Benoit, Patrick Collins Jr., Nathaniel Conroy, John Lewerenz Jr, and Tyler Lewerenz.
Also, 19 great grandchildren, and a host of friends, many from her childhood.
A memorial service will be held on Saturday, June 4, 2022 at 10 AM at Smith and Walker Funeral Home, 148 Grove Street, Putnam, CT 06260.
In lieu of flowers, donations may be made to Day Kimball Healthcare, Hospice and Palliative Care of Northeast Connecticut, or the Franklin Congregational Church. Share a memory at Smithandwalkerfh.com