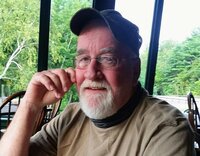 Thomas M. McDougall
Thomas M. McDougall, 65, of East Killingly passed away unexpectedly Monday, May 23, 2022 after saving his mother from a fire. He was born April 18, 1957 in Providence, RI, son of Ethel (Smith) Courtois and the late Edward McDougall. He was the beloved husband of Ann Marie (Bouthillier) McDougall for 47 years.
Thomas lived to be outside and took pride in his home. He loved animals, camping, Blues music and playing the harmonica. He worked for Staples in distribution. Thomas had a big heart and would help anyone in need.
He leaves his wife Ann Marie McDougall of East Killingly, CT, his mother Ethel Courtois of Danielson, CT, his son Thomas M. McDougall, Jr. and his wife Lisa of Thompson, CT, his grandson Matthew McDougall of Thompson, CT; his brother Timothy McDougall of Danielson, CT; his brother in laws Robert Bouthillier, Jr. (Cheryl Riveria) and John Bouthillier and wife Jan; his sister in laws Maureen Adams and Diane Bouthillier and several nieces, nephews and cousins.
He was predeceased by his step father Joseph Courtois and his brother in law Garry Bouthillier.
A Graveside Service will be Saturday, June 4, 2022 at 11:00 AM in Holy Cross Cemetery, Danielson, CT. Share a memory at www.gagnonandcostellofh.com