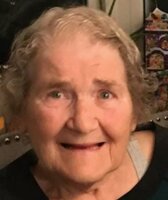 Geraldine Murphy
Geraldine Murphy, 86, of South Killingly passed away peaceful at home surrounded by family on Tuesday, June 7, 2022. She was born on April 17, 1936 in Grafton, West Virginia, daughter of the late Gearl Gull and Cora (Huffman) Gull. She was the beloved wife of James H. Murphy, Sr. for 66 years.
Gerry (as preferred) was a stay-at-home mom who enjoyed crocheting, needlepoint, board games, crafting, coached softball, provided daycare services, and loved swimming, gardening and canning in her younger years and most of all loved playing with her grandchildren and great grandchildren who brought her joy, happiness and love. And All!!!
Gerry is survived by her husband, four daughters Donna (Chad) Morin of So. Killingly, CT, Brenda (Michael) Skidmore of Danielson, CT; Linda (Steven) Severino of So. Killingly, CT, Patricia (Scott) Eastman of Thompson, CT and son James H. Murphy, Jr. of Woodstock, CT. She was the loved "Gram" to 13 grandchildren and 20 great grandchildren. Gerry is also survived by her brother Donald (Edith) Gull of WVA; sister-in-law Betty Gull of NC; brother-in-law Ova (Jo) Murphy of Canton, OH and many nieces and nephews.
Gerry was predeceased by her four brothers Frank Gull, Dallas Gull, Everett Gull, infant brother and five sisters Francis Tennant, Leona Weaver, Alfreda Fritts, Corrine Weaver, and Jean Wood; father-in-law Ova Murphy, Sr., mother-in-law Cora Murphy (Poe) and brother-in-law Edsel Murphy.
The family would like to give a special thank you to Dr. Daniel O'Neill (Day Kimball Medical Group), Day Kimball Hospice Team and CT Community Care Team.
There will be no services or calling hours. Cremation services have been entrusted to Gagnon and Costello Funeral Home.
In lieu of flowers, please make a donation to Day Kimball Hospice, 32 South Main Street, Putnam, CT 06260 in memory of Geraldine Murphy. Share a memory at Gagnonandcostellofh.com