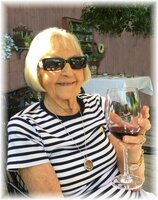 Alice Comtois
Brooklyn- Alice Comtois, 87, died peacefully Thursday, June 9, 2022 at Westview Health Care in Dayville with her daughter Lyn at her side. She was born June 16, 1934 in Putnam, CT, daughter of Michael and Sophie (Linkewicz) Kertennis. She was the beloved wife and constant companion of Joseph Maurice "Hank" Comtois, he died on December 16, 2015. They were married January 15, 1955 in Rogers, CT. She was a communicant of St. James Church in Danielson.
She was totally devoted to her family and her business. From 1960-1968 she and Joseph owned the Time Square in Danielson. In 1968 they opened The Meadow Steak House in South Killingly. In 1971 they opened and operated Hank's Restaurant on Route 6 in Brooklyn, CT, which today is owned and operated by their daughter and son in law.
She leaves her daughter Lyn-Michelle LaCharite and her husband Roland of Brooklyn, her granddaughter Stephanie Lyn and her husband Lieutenant Colonel Stephen Gerry of Mountain View, CA; her great granddaughter Brooklyn Gerry and several nieces and nephews.
She was predeceased by a granddaughter Lyndsay Jean and her siblings Victor Kertennis, John Kertennis, Michael Kertennis, Josephine Gasoriek and Charlotte Bussiere.
A Mass of Christian Burial will be Tuesday, June 14, 2022 at 12:00 PM (Noon) at St. James Church, 12 Franklin Street, Danielson followed by burial in Holy Cross Cemetery, Danielson, CT.
In lieu of flowers donations may be made in Alice's memory to the St. James School, 120 Water Street, Danielson, CT 06239. Share a memory with her family at www.gagnonandcostellofh.com