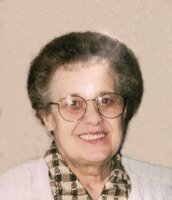 Odena Campbell
Odena B. Campbell, 82, of Putnam, CT, passed away to be in peace on Saturday, June 11, 2022, at Matulaitis Nursing Home. She was born in North Grosvenordale on July 13, 1939, to the late Ovila and Maria (Aucoin) Audette.
Odena married Robert L. Campbell, Sr. on October 25, 1958. Robert predeceased her in July 2005. Odena was a devout Catholic as faith was very prevalent in her family. She cherished each and every member of her family and extended families and enjoyed catching up on Sunday mornings for coffee, snacks, and conversation of the week's events.
She leaves behind a sister, Sr. Louise Audette of Manchester, NH. She also leaves a daughter, Donna Young and husband Doug of Woodstock, two sons: Robert Campbell, Jr. and Dawn Poirier of Putnam, and Michael (Peach) Campbell of Woodstock, 9 grandchildren, 16 great grandchildren, and many nieces and nephews. Odena also leaves a very dear friend from childhood throughout the years, Joanne Gatineau of Thompson, Ct.
Along with her parents and husband, Odena was predeceased by a daughter Karen Paquette, a granddaughter, Chelsea Paquette, and a sister, Sr. Anna Audette. Odena had previously worked at Grants, Windham Container and lastly retiring while at Commerce Insurance. Odena's family would like to thank the special staff at Matulaitis Nursing Home for the great care given to her.
A Mass of Christian Burial will be Wednesday, June 15, 2022, at 10:30 AM at St. Mary Church of the Visitation, 218 Providence Street, Putnam, CT. Calling Hour will be from 9:00 to 10:00 AM at the Smith and Walker Funeral Home, 148 Grove Street, Putnam, CT. Burial to follow Mass in St. Mary Cemetery, Putnam.
In lieu of flowers, donations may be made in her memory to Putnam EMS, 191 Church St., Putnam, CT 06260. Share a memory at Smithandwalkerfh.com