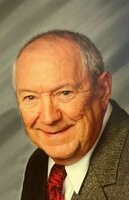 Ernest Leo LeBeau
Ernest Leo LeBeau, of Danielson, CT, passed away June 18th, 2022 at age 91. He was born in Moosup, CT, the youngest of six children of the late Ernest J. and Marie (Dudevoir) LeBeau. He attended All Hollows Catholic School, Plainfield High School and Central Connecticut Teachers College in New Britain. He married Arlene Woodward in 1955 at Our Lady of LaSallette Church in Brooklyn, CT. He was a Communicant of St. James Church.
Ernie suffered a serious farm accident as a child, resulting in years of hospitalizations and surgeries, but did not let that impede his success. Ernie was employed as a Senior Draftsman at the Electric Boat Division of General Dynamics for 43 years. He worked on the Contract Guidance Drawings for the Trident Submarines and provided design upgrades for a variety of sub systems. He also volunteered for the ARC- Quinebaug Valley, serving in several officer positions including Executive Director. He was president of the Canterbury Seniors group for five years. He was interested in organic gardening, loved to do crossword puzzles, and enjoyed to travel on cruises and to Hawaii and Italy. He loved to tell a good joke.
Ernie leaves his beloved wife Arlene, his daughter Cynthia Ann of South Killingly, and his son Mark and Judy LeBeau of Bourne, MA. He was predeceased by his son Brian and Brian's partner Joyce Hewitt of Brooklyn, CT. He also leaves three grandchildren, one great grandchild, and numerous nieces and nephews. Donations in lieu of flowers can be made to ST Jude Children's Research Hospital,
PO Box 1000, Memphis, TN 38101-9908.
A Calling Hour will be Thursday, July 7, 2022 from 10:00 to 11:00 AM at Gagnon and Costello Funeral Home, 33 Reynolds Street, Danielson, CT. A Funeral Service will follow at 11:00 AM at the Funeral Home, burial will follow at Holy Cross Cemetery, Danielson, CT. Share a memory at Gagnonandcostellofh.com