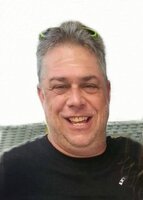 Keith D. Oatley
Keith D. Oatley, 53, of Niantic, died June 18, 2022, at his home. He was born February 20, 1969, son of David Oatley and Margaret (Cote) Kirby.
He was a graduate of Killingly High School, and enjoyed playing Hockey, Basketball and Softball. Keith was a proud Chef and owner of three restaurants. He was an avid Washington Redskins and Mets fan.
He leaves Cynthia Oatley and his daughter Amanda, his sons, Chris, Jonathan, and Matthew, brother Scott, and his three grandchildren Ella, Emma and Andre.
Calling hours will be Friday, June 24, 2022 from 6:00 to 8:00 PM at Gagnon and Costello Funeral Home, 33 Reynolds Street, Danielson, CT with a service at 7:30 PM. Share a memory at Gagnonandcostellofh.com