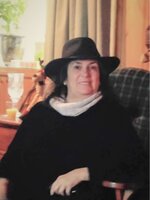 Louise Claire "Weezie" LaBelle
Louise Claire LaBelle "Weezie", 77, of Dayville, CT, passed away peacefully on June 27, 2022, comforted by members of her family. A lifelong resident of Dayville, CT, Louise taught at Killingly High School for 32 years. Louise graduated from Putnam Catholic Academy and received her undergraduate degree in history from Annhurst College in Woodstock, CT. She then went on to receive a Master of Arts degree in history from the University of Connecticut.
Louise was a mentor to many of her students and cared for them like no other. Miss LaBelle's Room 59 was a popular spot for her students to check in and get support. An ardent advocate for education and trailblazing feminist, Louise was committed to her faith and to women's rights.
She will always be remembered for her beautiful soprano voice and singing in the college and church choir. Louise followed her mother's legacy as a church vocalist and organist.
Among her many passions were the ocean, keeping up on current events, foreign and domestic affairs, home renovation and design, fashion, cooking and summer meals at Deary's Stand. She was also an avid reader. Most recently, Louise lived at Maple Court2 where she enjoyed spending time with her friends playing bingo and other games, as well as creating art projects.
Louise kept up on the activities of her large extended family and was especially devoted to her nieces and nephews and great nieces and nephews, whom she loved very much!
Louise is predeceased by her parents Marie & Etienne LaBelle and survived by her siblings Jeanne Trudo, Helene LaBelle, Etienne (Steve) LaBelle and Carol Lussier LaBelle, Frank LaBelle and Lynn Keene, Marguerite LaBelle and Jim Duckett, Sue LaBelle-Van Keuren and Dennis Van Keuren, Phyllis LaBelle and Jeff Mayo, Regina LaBelle and Tim Treanor, 16 nieces and nephews (two of whom, Steven and MarieElise, are her godchildren), and 14 great nieces and nephews.
May the roads in heaven be wide enough to accommodate a Lincoln Town Car.
A Mass of Christian Burial will be held at St. James Church in Danielson, Connecticut, Saturday August 13, 2022 at 12 noon.
Donations may be made in Louise's memory to The UConn Foundation, for a purpose to be designated by the LaBelle family. Checks are payable to The UConn Foundation, Inc., and should be mailed to 2390 Alumni Drive Unit 3206, Storrs, CT 06269. (Indicate on the check that the donation is in memory of Louise LaBelle.)