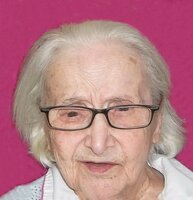 May A. Benoit
May A. Benoit, age 105 years and two months, formerly of 1950 Commonwealth Avenue, Brighton, MA died peacefully on July 14, 2022 at Matulaitis Nursing Home in Putnam, CT where she lived for the last 17 years. May was born May 14, 1917 in Putnam, CT and was a daughter of the late Adjuder and Celina (Desautels) Benoit.
May was the last surviving member of her immediate family. Besides her parents, May was predeceased by two brothers, Philbert and Edward Benoit and five sisters, Estelle Lucier, Leosa Latour, Anna Labonte, Jeanne Meehan and Celina Stafford. She leaves several nieces and nephews along with great nieces and great nephews.
May entered the convent at the age of 15. She ultimately decided that she wanted to live in the secular world and left the convent. She lived a faith-filled life and had a special devotion to the Blessed Mother.
May attended Becker Junior College and was awarded a certificate in Secretarial Science on June 10, 1945. She went on to work in banking and eventually retired from the School of Social Work at Boston College.
May loved her life in the city and lived in Brighton for over 50 years. She had many friends and loved her white cat Princess for over 20 years. Even though she never drove she went wherever she wanted to, by street car, bus, taxi and train. She spent most holidays in Dudley with her sister Celina and family and her favorite summer vacation was Rockport, MA.
May could not have lived as long as she did without the wonderful care and compassion of all the staff at Matulaitis Nursing Home. We are very thankful for each of them.
A Mass of Christian Burial will be held on July 30, 2022 at 11:00 AM at St. Mary Church of the Visitation218 Providence Street, Putnam. Burial will follow in St. Mary Cemetery, Putnam.
Please omit flowers. Donations may be made to PAWS Cat Shelter, Inc., 240 Route 171, Somers Tpke. Woodstock, CT 06281.
Share a memory at www.smithandwalkerfh.com