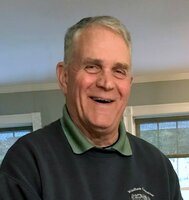 Gordon C. "Gordie" Mauer
Gordon C. Mauer "Gordie", 75 of Putnam, passed away Monday, July 18, 2022 at his home with his family by his side. He was the beloved husband of Jeanine (Beausoleil) Mauer. Son of the late Glen and Betty (Furman) Mauer, he was born in Albany, NY on March 12, 1947.
He graduated from Proctor Academy in NH and received a bachelor's degree from William Penn College in Iowa. He moved back to Putnam in 1972 to become a salesman at his family business, Windham Container, with his parents and brother Skip. Gordon purchased the business in 1990 and was an active owner until his untimely passing. The company and his loyal employees were his life. He was an official with the (ECFO) Eastern Connecticut Football Officials for 45 years, Eastern CT Softball Umpires for 20 years, officiating softball and volleyball locally with the Putnam Rec Department. Gordie enjoyed spending time with his family and his yearly family vacations during July 4th shutdown. He also enjoyed making you laugh even if it was at your own expense.
Besides his wife Jeanine of Putnam, he leaves his children, Chad Mauer of Franklin, Eric Mauer and his wife Rachelle of Woodstock, Jen Gauthier and her husband Rob of Putnam, three grandchildren Jake, Jack and Olivia. He was predeceased by his brother Stuart Mauer.
The Funeral Service will be Saturday, July 23, 2022 at 11:00 AM at the Living Faith United Methodist Church of Putnam, 53 Grove Street, Putnam, CT. There are no calling hours. In lieu of flowers donations may be made in Gordon's memory to the ECFO, 72 Rimek Road, Lisbon, CT 06351. Share a memory at Smithandwalkerfh.com