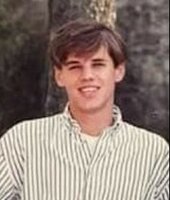 Chad Mauer
Chad Gordon Mauer, 48 of North Franklin, CT, passed away peacefully surrounded by his loving nurses on Monday, July 18, 2022 due to complications of a traumatic brain injury he sustained 31 years ago. Son of his mother Cathy Taylor of Putnam and the late Gordie Mauer. He was born in Putnam on May 5, 1974.
Chad was a very curious child who was always interested in finding an answer to everything. He attended school in Putnam and high school at Woodstock Academy
He played baseball for Citizens Bank in the Putnam Little League and football for the Redskins in WPTP. As a teenager he was able to work with his family at three different jobs: painting with his mother for her painting and wallpaper business, his uncle Skip restoring his charter boat "The Lady," and on the die cutter for his father at Windham Container. He was a risk taker and always looking for the next prank to pull to make you laugh.
For the past 21 years he lived at a group home on Holton Rd in North Franklin. He was loved and cared for by so many amazing nurses and staff members who treated him as their own family and would do anything for him.
Besides his mother Cathy, he leaves his step father Doug Taylor of Putnam, step mother Jeanine Mauer of Putnam, brother Eric Mauer and his wife Rachelle of Woodstock and their children Jack and Olivia, step siblings Torie Follett of Smithfield, RI, Doug Taylor of Nashville, TN, and Jen Gauthier of Putnam. Besides his father Gordie he is predeceased by his uncle Stuart Mauer.
A Celebration of Life will be Saturday, July 30, 2022 at 11:00 AM at the Living Faith United Methodist Church of Putnam, 53 Grove Street, Putnam, CT. There are no calling hours. In lieu of flowers donations may be made in Chad's memory to the Living Faith United Methodist Church of Putnam, 53 Grove Street, Putnam, CT. Share a memory at Smithandwalkerfh.com