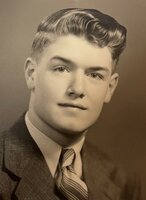 Romeo J. Bernier, Jr.
Romeo J. Bernier, Jr. aka Joseph R. Bernier, 93, of Brooklyn, CT passed away peacefully on September 5, 2022 at the Village at Waterman Lake in Greenville, RI.
He was born on August 18, 1929 in Brooklyn, CT, the son of Romeo Sr. and Leonie (Grenon) Bernier, both of whom predeceased him.
A lifelong resident of Brooklyn, he completed his early education at St. James School in Danielson. He was Salutatorian of his Killingly High School class of 1947 and voted most likely to succeed.
He graduated cum laude with a B. S. degree in Business Education from Teachers College of Connecticut (Central Connecticut State University) in 1951; an MBA degree from George Washington University in Washington, D.C. in 1956; and a Ph. D. in Secondary School Administration from the University of Connecticut in 1969.
Following graduation from TCC in 1951, he enlisted in the U.S. Air Force at Sampson Air Force Base in Geneva, New York. Upon completion of basic training, he was assigned as a stenographer to Washington, D.C. Headquarters, Joint Task Force 132, Operation IVY in 1951, later redesignated Joint Task Force 7 for Operation CASTLE in 1954.
Both Task Forces, comprised of Army, Navy and Air Force Task Groups, together with personnel and technical and scientific support from Los Alamos Scientific Laboratory in New Mexico, conducted test of nuclear and thermonuclear weapons at the Pacific Proving Grounds at Bikini and Eniwetok Atolls, Marshall Islands. As secretary to the secretary to the Chief of Staff for all operations, Sgt. Bernier was awarded the Commendation Medal with Metal Pendant for meritorious service by the U.S. Secretary of the Army in 1954.
Upon completion of military service in 1955, he was employed as a commercial teller at Conn. Bank and Trust, and subsequently at the Brooklyn Savings Bank in Danielson. While employed at Brooklyn Savings Bank, he was simultaneously elected Judge of Probate for the town of Brooklyn, in which capacity he served until 1960. Soon thereafter, he left banking and accepted a teaching position at Killingly High School.
In 1961, while pursuing advanced graduate studies, he was offered the position of Assistant Director of Summer Sessions and Credit Extension at the University of Connecticut. In 1966, while on sabbatical leave from the University of Connecticut, he was one of 34 nationally selected doctoral candidates to participate in the White House U.S. Office of Education Fellows Program, professionally designed for future state and national leaders in education.
He resumed graduate studies at the University of Connecticut and, in 1969, upon completion of his doctorate, was offered the position of Associate for Accreditation and Scholarship with Connecticut Commission for Higher Education responsible for administering the State Scholarship Program and for coordinating the licensure and accreditation of all Connecticut post-secondary degree-granting program and institutions of higher education until his retirement in 1980.
Romeo had a lifelong passion for choral singing. He helped organize and directed a Danielson Chapter of SPEBSQSA. He sang with the Connecticut Opera Chorus, the Hartford Chorale, the Berkshire Choral Festival, and the Cape Cod Chorale, where he was a tenor soloist.
He is survived by his siblings Robert Bernier and his wife Lucille of Brooklyn and Lucille Ledogar of Florida; also several nieces and nephews. He was predeceased by a brother Raymond Leo Bernier. Donations maybe made in his name to St. James School, 120 Water Street, Danielson, CT 06239 or Continuum Hospice & Palliative Care, 1350 Division Road, Suite 205, West Warwick, RI 02893.
Calling hours will be Tuesday, September 13, 2022 from 9:00 to 10:30 AM at Gagnon and Costello Funeral Home, 33 Reynolds Street, Danielson, CT. A Mass of Christian Burial will follow at 11:00 AM at St. James Church, 12 Franklin Street, Danielson, CT. Burial will be in Holy Cross Cemetery Danielson, CT. Share a memory at www.gagnonandcostellofh.com