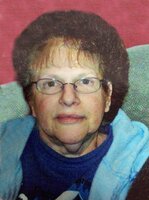 Cheryl Gebo
Cheryl M. Gebo, 74, of Ware Road Dayville passed away September 8, 2022 at W.W. Backus Hospital in Norwich, CT. Beloved wife of the late William Gebo, he died October 31, 2012. They were married July 18, 1970. She was born August 2, 1948 in Putnam, CT daughter of the late Peter and Theresa (Lucibella) Zadora.
Cheryl loved spending time with her grandchildren and swimming in the pool for hours. She liked staying up late watching ghost stories, cops and America's Most Wanted. She enjoyed baking. She would go mud pout fishing for hours. All the kids in the neighborhood would hang out. She used to sit in the car for hours on a Saturday night listening to Wolfman Jack on the radio playing all the oldies. She even once tried Scott's dirt bike and scraped her arm down the fence in the backyard so that came to an end pretty quick. She liked playing pool and badminton.
She leaves her son Scott Gebo and wife Tammy of Dayville; her siblings Leonard Zadora of Dayville, Charles Zadora of Danielson and Louise Zadora of Danielson; her grandchildren Zachary Gebo and wife Amy, Nathan Gebo, Noah Gebo and wife Payton, Kane Gebo, Ryan Reynolds and Brett Reynolds Also her great grandchildren Khloe Gebo, Oliver Gebo, Alayla Gebo, Brooklyn Gebo and Carter Gebo and many nieces and nephews. She was predeceased by a daughter Tracee Gebo.
Funeral Service will be private. Donations in her memory can be made to the Jimmy Fund, Dana Farber Cancer Institute, PO Box 849168 Boston, MA 02284-9168. Share a memory at www.gagnonandcostellofh.com