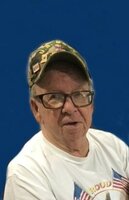 Robert R. Emond
Robert R. Emond, 84, of Danielson, CT passed away September 24, 2022 at Hartford Hospital. He was born December 20, 1937 in Killingly, CT, son of the late Elphege and Lillian (Hall) Emond.
Robert was a Communicant of St. James Church in Danielson, CT. He served in the United States Navy and was a member of the Am. Vets Post 45 and was their finance officer for 17 years. Robert worked for Kaman Aircraft, Pervel Industries and then he worked for the town of Killingly building the town's sanitation facility. He then worked at Rogers Corp for 25 years retiring in 1997.
He leaves his son Sean Emond and wife Sylvia; his daughter Shanda Emond; his grandchildren Hope Emond, Teresa Emond and Dylan Harrison; his brother Richard Emond; his brother-in-law Maurice Bazinet. Also several nieces and nephews. He was predeceased by his sisters Elizabeth Bazinet and Theresa Sypek.
A Mass of Christian Burial will be Thursday, September 29, 2022 at 10:30 AM at St. James Church, 12 Franklin Street, Danielson, CT. A Calling Hour will be from 9:00 to 10:00 AM at Gagnon and Costello Funeral Home, 33 Reynolds Street, Danielson, CT. Share a memory at www.gagnonandcostellofh.com