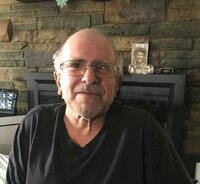 George Viveiros
George M. Viveiros, Jr., 68, of Danielson died September 12, 2022 at his home. He was born June 1, 1954 in Fall River, MA, son of the late George M. Sr, and Mary (Pimental) Russell.
He was a self-employed Electrician and a jack of all trades who was quick to lend a helping hand to friends and family or anyone. He was an Archer and taught Archery and enjoyed teaching it. George also played the drums for many bands, and with family and friends! Was a lover of all music and enjoyed DJ'ing.
He leaves his Son David Viveiros of Danielson, Daughter Rebeccah Viveiros (John Lane, Sr.), Siblings Mike Viveiros and (Jean), Dawn Viveiros Nelson, David Viveiros, George Viveiros, Jr., Gayle Viveiros Lyne, grandchildren Aileen Mavrose and Cadence Viveiros, Aunt Leanora Swist (Jack) and numerous nieces and nephews. Also many friends that became family!
Calling hours will be: Friday, October 7, 2022, from 5-7 PM at At Smith and Walker Funeral Home, 148 Grove Street, Putnam, CT. Followed by a potluck gathering, RSVP with David or Rebeccah Viveiros for details (his children). Share a memory at Smithandwalkerfh.com