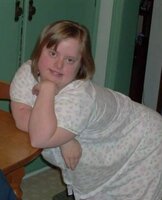 Faith Ann Briere
Faith "Faithy" Briere, 34
Putnam, CT
On Friday afternoon, Faith said "Daddy, Faith go to heaven."... a few hours later, she joined her mommy, grandparents & sweet kitties in paradise.
Faith was the sweet & loving daughter of the late Linda (Szruba) Briere and Albert Briere, the sister of Kristen (Briere) Ramdohr & Aubrey-lynn (Briere) Girdwood, and the bonus daughter of long-time loving caregivers Gloria L'Heureux & Jeanette Duquette.
Faith was a ray of sunshine, both sweet & spicy! (If you know, you know...) There was not a soul who crossed her path, who did not love her; that's a fact! She was forever smiling, and filled with contagious joy. Faith was generous, kind, and pure. She enjoyed singing and dancing, and could cut a rug like nobody's business... and was always the last one to leave the dance floor; she was also known to spontaneously lead the church in a chorus of "You are my Sunshine", on any given Sunday. She loved beading, coloring, PAPER ("pay-ger"), watching American Idol reruns, House, (especially Dr. Chase ;-)... ) and movies (Faith's FAVORITE, by far, was FROZEN!). Faith loved her pepper, and adored salad and SNACKS, ;-) especially goldfish crackers! If you knew Faith, (even if you didn't know her...) you loved her. She was definitely Daddy's little girl, and his shadow. She also enjoyed going to camp every summer, and swam like a fish.
Faith was fortunate enough to have two homes, for so many years. Sunday Eve - Friday with Gloria and Jeanette, Friday Eve - Sunday Eve with Daddy; Year after year, with the same loving care... Faith was so, so very loved, and will be greatly missed. GOD BLESS!
Faith leaves behind so many aunts, uncles, cousins, nephews, bonus sisters and friends...
We love you ("Like you Much") Faith!
Memorial service will be Saturday, November 5, 2022 at 4:30 pm at the Faith Bible Evangelical Free Church, 587 Route 171, Woodstock, CT 06281. Share a memory at Smithandwalkerfh.com