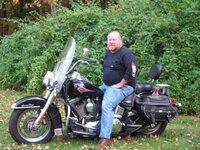 Richard D. "Rick" Allen
Richard D. Allen October 12, 1962 - October 29, 2022
Richard (Rick) Allen of Killingly passed away unexpectedly in his home on Saturday, October 29, 2022. He is survived by his children, Jenna, Brittany, and son in-law Scott. Richard was born on October 12, 1962 in Putnam CT to Louis "Bud" and Phyllis Allen. He had two brothers and one sister, Louis, David, and Carol. Rick also leaves behind many lifelong friends and loved ones as he was a beloved, proud, and life-long member of the town of Killingly. He worked for the Killingly Public Schools from 1981 until his retirement on May 1, 2022. Rick happily volunteered his time at the local High School football games and coaching girl's Softball. He also dedicated many years to racing cars at Thompson Speedway, attending Pow Wows, and riding his Harley Davidson. Rick's other passions were spending time with his family on Webster Lake, riding his four-wheeler/snowmobiles to Pizza King with the boys, and caring for his dogs. Rick Allen had an undeniable presence that would light up a room, a contagious laugh, infinite generosity, and the "gift of gab". Rick will be remembered as a loving and proud father to his own children and the many he adopted along the way. A Celebration of Life will be held on November 26, 2022 from 2 to 6 PM at the Amvet, 660 RT- 205 Brooklyn, CT. If you have any questions please feel free to reach out to rickallenmemorial@gmail.com.