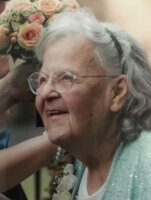 Marion "Betsy" Sorel
Marion (Betsy) Sorel, age 90, of Thompson CT, died Monday October 10, 2022.
Betsy was born January 7th, 1932 in Putnam, CT. Her parents, Raymond and Marion (Mills) Wing, her twin brother Raymond (Buddy) Wing, along with her sisters, Susan and Carol passed years ago. Her youngest sister Bobby (Robert) and her family live in Florida. Betsy's husband, Armand E. Sorel, passed away in 2007 after 56 years of marriage. She leaves her 5 children, Linda (Bob) Coolick of Rocky Hill, Karen (Thomas) Richmond of Pomfret, David (Karen) Sorel of Woodstock, Joanne Sorel of Putnam, and Cindy (Scott) Hale of Woodstock. She also leaves 10 grandchildren and many great grandchildren that will miss their "Gram" who always enjoyed their company. She also leaves a large group of nieces and nephews including family from Sorel's Garage in Brooklyn, CT, along with many across the country in Washington state and California.
Betsy was a women of many talents in and out of the home. She put love into everything she did, knitting, crocheting, tatting, cross stitch, and, Oh the baskets she made! You wouldn't be surprised to receive a handmade hat, scarf or slippers when you came to visit. If you wanted to learn, she was more than willing to share her crafts. She certainly had two green thumbs, her indoor plants, especially her African Violets thrived. She enjoyed spending a lot of time in her gardens, growing fruits, herbs, and vegetables, canning, freezing and sharing her delicious dishes and recipes. Their gentleman farm with a variety of livestock, cows, pigs, turkeys and chickens allowed them to feed their family with a lot of hard work. Family gatherings at Gram's will always be treasured memories. We will never forget her homemade pies, pickles, root beer, cider, applesauce, whoopie pies, grape juice and frozen pops. She was always up for a game of Scrabble, Rummy or a puzzle. A visit to Old Sturbridge Village was a regular event. She had a jolly disposition, always had a smile or a laugh to share. Everyone left with a big hug!
A calling hour will be held Thursday, November 10, 2022 from 1-2 pm at the Smith & Walker Funeral Home, 148 Grove Street, Putnam CT, a memorial service will follow at 2 pm. Burial will be private, at a later date.