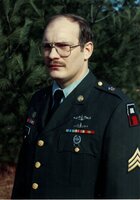 William Joseph Lafleur
William Joseph LaFleur, 68, of Putnam, Connecticut, passed away at home on October 31, 2022. Bill was born in LaCrosse, Wisconsin on January 4, 1954 to Ambrose LaFleur, Sr. and Kathryn (Knutson) LaFleur, as the fourth of eight children. Bill enjoyed playing football for Central High School in LaCrosse, and his love for the game continued throughout his life.
After graduating from high school, Bill joined the US Navy, serving on the USS Stonewall Jackson, based in Groton, Connecticut. While stationed in Groton, Bill met the mother of his children and decided to stay in Connecticut.
Bill lived in Putnam, Connecticut for much of the rest of his life, joining the National Guard and being active in scouting for many years. During the years Bill was a member of the Connecticut National Guard's 250th Engineering Company, the unit was awarded recognition as the National Guard's top tactical field kitchen in the United States. Bill was also active in scouting for many years, enjoying his time working with Webelos Scouts.
Bill was a faithful employee of Loos and Company for nearly 40 years. He loved his family and friends, particularly his daughter Kathryn LaFleur and her husband James Stringer, and hist son Kenneth LaFleur. He is also survived by hist grandson Travis LaFleur and his fiancée Cassidy Guevremont, and his great-grandchildren Finley and Jasper Stringer. He is also survived by his brothers David, Michael, Thomas, and Mark LaFleur, and a sister Sandy Kreibach. He was predeceased by his parents and his brothers Ambrose and James LaFleur.
Calling hours will be on Saturday, November 19, 2022 from 4:00 to 6:00 pm at Smith and Walker Funeral Home 148 Grove Street, Putnam, Connecticut 06260