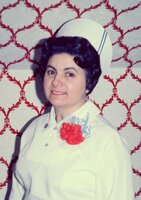 Theresa Loiselle Dauphinais
Theresa Loiselle Dauphinais, 90, of Danielson, CT, died comfortably and well taken care of on December 19, 2022 at Colonial Health and Rehab in Plainfield, CT. Born on February 25, 1932. She was married to Robert Dauphinais in 1961 until his passing in 2007.
She worked for Lorosa, Delta Rubber and then studied Nursing at Day Kimball Hospital. After becoming an LPN and worked for Pierce Memorial Baptist Nursing Home and Immaculate Conception Center. Later in life she worked as a Hostess at Foxwoods Casino.
She is survived by her children Gerard Dauphinais and his wife Donna, Ronnie Dauphinais and his long-time love Valerie ONeil, Norma and her husband Michael Lowenson and David Dauphinais and his wife Erin; her brothers Robert Loiselle and his wife Barbara, David Loiselle and his long-time love Jean Mateychuk; her sisters Phyllis Rendulic, and Connie Bachand; her six grandchildren and six great grandchildren.
Calling Hours are Tuesday, December 27, 2022 from 6:00 to 8:00 PM and Wednesday 10:00 to 11:00 AM at Gagnon and Costello Funeral Home, 33 Reynolds Street Danielson, CT. A Mass of Christian Burial will be at 11:30 AM Wednesday, December 28, 2022 at St. James Church, 12 Franklin Street, Danielson, CT. Burial in Holy Cross Cemetery Danielson, CT. Share a memory at Gagnonandcostellofh.com