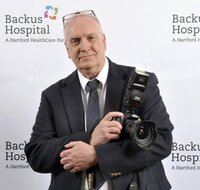 Jeffrey O. Evans
Jeffrey O. Evans, 71, of Norwich, CT, passed away December 28, 2022 at W.W. Backus Hospital in Norwich, CT. He was born March 3, 1951 in Putnam, CT, the son of the late Raymond R. and Mary A. (Lehrer) Evans, Jr.
He leaves his siblings, Kenneth Evans of Putnam, CT, Deborah Guido and her husband Frank of Marco Island, FL, Timothy Evans and his spouse Robert Quelch of Fresno, CA, Gregory Evans and his wife Patricia of Putnam, CT. As well as several nieces and nephews.
Jeff in his most recent career was employed as a Media Specialist for Hartford Healthcare. In this role he was instrumental in creating and publishing media content to a variety of platforms to the greater community through video and photography. Prior to this he worked as a photo journalist for the Norwich Bulletin and The New London Day newspapers. He made numerous friendships throughout his career.
Shortly after graduating from Syracuse University in 1974, his love of bicycling took him on a cross country ride from Groton CT to the Oregon Coast. He also loved spending time in the White Mountains of New Hampshire, specifically in North Conway, biking, hiking and camping.
Calling Hours will be 5:00 to 7:00 PM Thursday, January 5, 2023 at the Smith and Walker Funeral Home, 148 Grove Street, Putnam. The Funeral Service will be 10:00 AM, Friday, January 6, 2023 at the Funeral Home. Burial will be held in Grove Street Cemetery Putnam, CT at a later date. Share a memory at Smithandwalkerfh.com