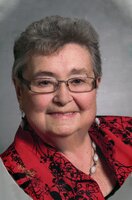 Doris Roy
Doris M. (Brouilette) Roy peacefully passed away with family by her side on January 7, 2023. She joyfully celebrated her 90th birthday surrounded with loved ones on a beautiful August day last summer.
She was pre-deceased by her husband, Ernest J Roy Sr whom passed on March 17, 1992 after 43 years of marriage.
Doris was an avid reader her whole life. She enjoyed collecting books in her travels, including many cultural cookbooks. Doris had volunteered at Day Kimball Hospital for many years. She worked in the textiles Mills of yesteryear making many lifelong friends. She later moved into retail, managing the sports department at Kmart in Putnam for years creating more friendships along the way. She also was well known for her successful home cake decorating business, lovingly named ~Doris's Cakes "for goodness sake". Doris spent most of her life in the town of Putnam enjoying all the community events and fairs that the town offered, as well as donating her time and baked goods to her church events. You would normally see Doris on her three or four wheeled buggy buzzing around town. She liked Red Sox, NASCAR, and the Food Network as well as Country Music and Live events. There was nowhere she wouldn't go, if invited. She also enjoyed regularly playing pitch with her friends at Ella Grasso Gardens.
She had a special bond with her family and had vacationed all over with them through the years. She was great to have around, as she loved to laugh and play for her entire long life.
She had a way of making everyone feel comfortable in her presence, and will forever be missed by all who knew her.
Doris leaves two sons, Ernest Roy and wife, Graceann of Delaware, Rick Roy and spouse David Dunham of Myrtle Beach, and a predeceased daughter; Kathleen (Roy) Marshall who passed September 18, 2002. Doris leaves behind three granddaughters, beloved Rhonda (Roy) Collins, Nicole (Sylvester) Judd and Jerusha (Dunham) Harvey. She leaves behind a sister Joann Labontie of Thompson. Beth Claudia, her sister, has since passed. Doris leaves four Great Grandchildren: Dakota and Waylin Collins, Skyla Marinaro, Alexis Borriello and three Great Great Grandchildren Carmen and Damien Garcia, and Coleton Byrum. Doris leaves her favorite caregiver Lisa (Liz), and all staff at Classic Homemakers. Details of her celebration of life is as follows:
This Thursday 1/12/2023 beginning at 9:00am a visitation at Smith & Walker Funeral Home 10:00am Burial at St Mary's Cemetery, then a celebration of life at 11:00am at Living Faith Methodist Church on Grove Street followed by a luncheon in the Social Hall. Share a memory at Smithandwalkerfh.com