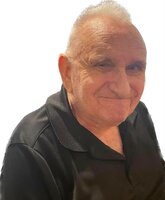 George William Lefevre
George William Lefevre, 85, of Ashford, CT, passed away January 7, 2023 at his home in his daughter's loving arms after a long battle with Alzheimer's. He was born on May 12, 1937 in Putnam, CT, son of William "Whitey" and Lillian (Chausse) Lefevre. He was the beloved husband of Shirley (Lachance) Lefevre for 64 years.
George worked hard his entire life to be a good provider to his family. His greatest joys were his children and his grandchildren, who he was always there for. He loved his gardens, fishing, camping and the ocean. He was an amazing role model to his family.
He is survived by his wife Shirley Lefevre of Ashford; his daughter and caregiver Cheryl Reenstra of Ashford; his son Scott Lefevre of Ashford, his granddaughters Cassandra Gaucher of Vernon, Chelsea Gaucher of Danielson and Camryn Gaucher of Ashford; his little loyal companion dog Casper; his sister-in-law Carol Kennett of Putnam. Also several nieces and nephews. George was predeceased by his brothers Robert Lefevre, Theodore Lefevre and Richard Lefevre
In lieu of flowers, kindly make a donation in George's memory to the Alzheimer's Association, 200 Executive Boulevard, Suite 4B, Southington, CT 06489.
Calling hours will be Monday, January 16, 2023 from 10:00 to 11:30 AM at Smith and Walker Funeral Home, 148 Grove Street, Putnam, CT. A funeral service will follow at the funeral home at 11:30 AM. Burial in St. Mary Cemetery, Putnam, CT. Share a memory at Smithandwalkerfh.com