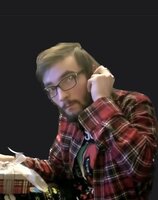 Justin T. Procaccini
Justin Tyler Procaccini, age 20, entered into eternal rest on January 18, 2023. Born on May 2, 2002, Son of Joseph C. Procaccini Sr. and Karen L. StAmant. The youngest of eight, Justin was uniquely perfect in his very own style and way. In a family so large, it can be easy to get lost in the shadow of an older sibling growing up. But, Justin never had that issue. He was one of a kind and his light shined so bright.
Raised in Warwick, Rhode Island, Justin came to live in Putnam, CT in 2019. He excelled in many things but gaming with his family and friends had a special place in his heart. His special friend/cousin he mostly enjoyed gaming with was Ryan Newman. He also had a great love for his two cats, Little Dude and Floofy. Justin was very smart and musically inclined. He taught himself to play the organ and played for his family, often.
His family consisted of many who loved him; A beloved brother to Joseph C. Procaccini Jr and his boyfriend Peter Fournier, Jason E. Procaccini and his girlfriend Amanda Brindamour, Jennifer L. Salvato and her husband Matthew Salvato, Jamie M. Procaccini, Jessica R. Burns and her husband Steven Burns, Jonathon T. Procaccini and Joshua M. Procaccini. He was also a foster brother to Emilio Bessette, Angel Bessette, Tabitha Eisenberger and Jasmine Eisenberger. Justin had many nieces and nephews who kept the house as lively as it was when he was growing up. He was a cherished Uncle to Jordyn Procaccini, Madelynne Souza, Oliver Burns, Lucas Souza, Caleb Salvato, Calvin Burns, Addison Burns and Everleigh Procaccini. His cousins, Richard Newman Jr., Michelle Dudley and Stephanie Newman were like siblings to him, as they were raised in the same household. Likewise, his Aunt, Amy Newman, watched him grow alongside her children and loved him as one of her own. He leaves behind his Grandfather, Thomas S. Newman, but joins his other grandparents Irene G. Newman, Carmine Procaccini and Lillian Procaccini. He also joins his uncles, Willard E. Newman and Thomas S. Newman Jr.
For all who would like to pay their respects, Calling Hours will be Monday, January 23, 2023 from 6:00 to 8:00 PM at Gagnon and Costello Funeral Home, 33 Reynolds Street, Danielson, CT. This is not to say "Goodbye". He will be with us all, always. If Justin has touched your heart in any way in your lifetime he is sure to remain there. Share a memory at Gagnonandcostellofh.com