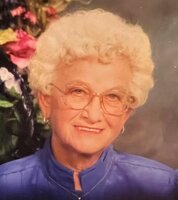 Luella Sarah "Sally" Newcombe
Luella Sarah Newcombe (Sally), 101, passed away peacefully on Monday, January 16. Sally was born at home in Thompson, Connecticut, to Emil and Luella Carlton Bayer. Her husband, George Newcombe, died in 1975. She was also predeceased by sons Douglas and Wayne Newcombe. She leaves son Craig Newcombe and many nieces and nephews and good friends. Sally outlived all of her siblings: brothers Roger, Raymond, Lawrence, and Richard Bayer and sisters Louise Bayer Salinger and Ruth Bayer Elliott.
Sally attended Thompson schools and graduated from Tourtellotte High School. She worked as a home health aide for Community Home Health Care for over ten years. She turned a hobby of making and decorating cakes into a cottage business. She became well known from the 1960s to the 1990s for her beautiful wedding cakes that defied gravity. She also taught cake decorating at home and for Thompson adult education. Another hobby was needle work of various types, many of which were displayed at the Thompson Library.
Sally grew up in the Brandy Hill Baptist Church and was its last surviving member. In the Thompson Congregational Church she was a Sunday School teacher, choir member, and committee member. She was an energetic participant in any church activity such as bazaars and strawberry dinners. She continued to enjoy the camaraderie of the Thimble Club.
Sally was a loyal and hard-working member of the Quinnatisset Grange.
A nephew has said that Sally was the goddess of little children and animals. Children once counted over one hundred owls decorating her home. She believed the adage "a house is not a home without a dog."
Sally was always proud to say that she still lived in the home in which she was born. Her life will be celebrated at the Brandy Hill Baptist Church at a later date.