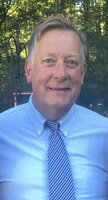 Kurt Siegmund
Kurt W. Siegmund, age 61, of Pomfret Center, passed away suddenly, February 9th, at Harrington Hospital in Southbridge, MA. He was the beloved husband of Diane (Eddy)Siegmund. The son of Walter and Lois(Schramm) Siegmund, Kurt was born on July 14, 1961 in Southbridge, MA. He grew up in Woodstock and spent summers in Woods Hole on Cape Cod where he had many happy memories. He was a 1979 graduate of Woodstock Academy, and received his bachelor of science from University of Oregon in 1984.
For the next several years, Kurt lived and worked in Southern California until moving to Pomfret in 1996. Soon after, his life came full circle, where he re-met his childhood neighbor, Diane Eddy. The two were married October 3,1998. Kurt was employed at Schott North America in Southbridge, MA for 24 years. He was a research and development technician where he developed lasting friendships with his colleagues.
Kurt was an antique car and vintage motorcycle enthusiast, who also enjoyed skiing and biking. His greatest joy was being with his family. He and Diane enjoyed traveling, hiking and seeking out new food related adventures. He was a loving father to his daughter, Clara, where for many years, he relished in following her high school and collegiate tennis matches, traveling great distances to see her compete.
In addition to his wife and daughter, he is survived by his sister, Lisa Siegmund of Hampton,CT, his brother, Paul Siegmund of Falmouth, MA, Brother and Sister in laws, Ross and Susan Eddy of Woodstock, Durrin and Bob Motley, of Woodstock and several nieces and nephews.
In lieu of flowers, donations in his memory may be made to the CT Audubon Society, P.O. Box 11, Pomfret, CT 06259.
A celebration of life will take place at Grill 37 in Pomfret, CT on Saturday, April 8th at 1:00.