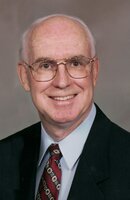 Bernard Andre Phaneuf
Bernard A. Phaneuf, 84, of Woodstock, Conn., died Monday at Massachusetts General Hospital in Boston, surrounded by his loving family, following a long battle with heart disease. A devoted husband, father and grandfather, he was an entrepreneur with a keen ability to transform struggling businesses into successful ventures.
Born Dec. 23, 1938 in Putnam to Lawrence Phaneuf and Alice LeClaire Phaneuf, he graduated in 1956 from Woodstock Academy. Serving in the U.S. Marine Corps from 1956 through 1958, he was honorably discharged as a corporal, and attended Norwich Commercial College.
Following his military service, he met his wife, Janice A. Benoit of Putnam. They were married on Oct. 7, 1961, at St. Mary Church of the Visitation in Putnam and celebrated their 61st anniversary shortly before he entered Massachusetts General Hospital last autumn.
For 35 years he held administrative and executive positions at American Standard Corp. in Plainfield, Glass Container Corp. in Killingly, United Abrasives in Windham and Bay State/Sterling in Westborough, Mass.
He acquired Bay State/Sterling in 1994, transforming the struggling abrasives manufacturer into a thriving business that was successfully sold three years later.
In 2000, he purchased The Woodstock Line Company in Putnam, expanding the high-quality braiding and fishing line business until his retirement in 2021.
Bernie deeply loved his children and grandchildren, took great pride in their accomplishments and cherished his wife as the love of his life.
He loved collecting antiques, gardening, caring for his pets, and rooting for the University of Connecticut women's basketball team.
A man of deep faith, in 1986 he was ordained a Roman Catholic deacon in the Diocese of Norwich and served at St. Mary's Parish in Putnam for 20 years.
He is survived by his wife, three daughters and sons-in-law, Allison and Mark Bertorelli of Farmington, Mary and Dr. David Wilterdink of Brooklyn, and Heather and Daniel Page of Simsbury, one son and daughter-in-law, Keith Phaneuf and Jenna Carlesso of Farmington, two granddaughters, Mara and Aerin Bertorelli of Farmington, and by one sister, Constance Black of East Hartford.
He was predeceased by three brothers, Lawrence Phaneuf Jr. of Putnam, Robert Phaneuf of Woodstock, and Richard Phaneuf of Woodstock, and by one sister, Genevieve Phaneuf of Woodstock.
A Mass of Christian Burial will be celebrated at 10 a.m., Thursday, March 2, at St. Mary Church of the Visitation, 218 Providence St., Putnam. Relatives and friends are invited to gather directly at the church.
Burial will be private at the convenience of the family.
The Smith & Walker Funeral Home in Putnam is in charge of arrangements. In lieu of flowers donations in Bernie's memory may be sent to St. Mary Church of the Visitation, P. O. Box 665, Putnam, CT 06260. Share a memory at Smithandwalkerfh.com