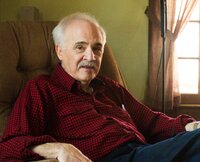 Alexander George Cinquanta
*Burial with military honors will be Friday May 19 at 10:00 am in Barlow Cemetery, Woodstock, CT.
With grief and love we share the loss of Alexander George Cinquanta, who passed away on Saturday, April 15th. He would have been 81 on May 7th of this year.
Alexander—Alec or Al to friends and Papa to his family—grew up in Branford, Ct., and was a resident of Woodstock for 50 years. A lifelong tinkerer and an industrial electrical sales rep by profession, he built the Cinquanta family home with his own hands and to his own design.
He held a deep love of animals and nature, filling the pantry with vegetables from his sprawling and abundant garden. The woods were his church, and his family included many dozens of fostered kittens, local strays and woodland creatures, and the dogs who were so dear to him.
Alec lost his wife Karen (née Schell) on April 14, 2002. He is survived by his brother David F. Cinquanta and his wife Dana; his uncle Frank Ranalli and his wife Ann; his daughter Wendy Anne Marinko and her husband John; his grandson Reid Alexander Ranalli; his granddaughter Victoria Rose Van Sant and her partner Matthew; and his beloved extended family.
Alec was a historian and a patriot at heart. Alongside many beautiful nature scenes Karen painted on wood that he found for her, their home featured historical art and artifacts from the American Revolution, the Old West, and the Civil War.
He was a member of the National Guard, an avid collector of American Flyer miniature locomotives, a hunter, a self-professed "mountain man," and a proud advocate for gun safety, even starting a local gun club to teach children about the responsibilities of firearm ownership and use.
Alec was also a deeply community-minded man. For many years he volunteered at Day Kimball Hospital helping other diabetic patients manage their illnesses. He worked backstage (and occasionally appeared onstage) in community theater, and had fond memories of the Haunted Trail, where his contributions included elaborate displays of explosive munitions. He was always delighted by the surprise, shock, and joy. "They couldn't believe it!" he would tell us.
Alec was an indefatigable maker and creator, a photographer, a carpenter, a musician, a gunsmith, a woodsman, a baker, an electrical engineer, and a team player in all his pursuits.
Perhaps most of all, Alec Cinquanta was a family man. A devoted husband, a proud father and grandfather, a dependable brother, a loyal and loving son. He was a lifelong teacher and learner, habitually diving deep into the interests of his family and friends to help them find new ideas and opportunities.
He leaves a legacy of love behind him. To everyone who knew him, Alec showed that we need not be rich to be generous, that sound counsel is often found in common sense, and that the highest virtue is to be true to each other. He will be greatly missed.
Alec's funeral services will be held at Smith and Walker Funeral Home, 148 Grove St., Putnam, Ct., on Monday, April 24th, at 11:30 AM, calling hours from 10:00 to 11:30 at the funeral home. Burial with military honors will be Friday May 19 at 10:00 am in Barlow Cemetery, Woodstock, CT. In lieu of flowers, the family asks that mourners and friends consider donating to the Sansum Diabetes Research Institute in his memory. Share a memory at Smithandwalkerfh.com