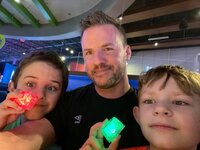 Nathan Grist
Nathan Daniel Grist, age 46, of Pomfret Center CT passed away on Friday, April 21st, 2023
Nathan was born in Putnam, CT and lived most of his life in Connecticut. Nate attended Woodstock Academy and earned a degree in Information Technologies from Eastern CT University.
Nathan met and married Faith Fisher of Willimantic CT in 2006 where they raised son's Nicholas and Sammy. Nate was employed by Nichols College of Dudley, MA serving as the Director of Server and Network Operations. This work he loved, though it included being forced to be the IT guy for the extended family!
From his youth, Nate demonstrated "old soul" tendencies quickly recognized by those he came in contact with and those that loved him. His infectious smile, warmth of expression, and gentleness of spirit revealed his unique gift. Nathan had a special place in his heart for "lost souls", ever willing to lend help if he could.
Nathan's love of his boy's, Nicholas and Sammy, music, his guitar and deep conversations, stand out as hallmarks of the man we have loved. Nate approached conversations and interactions with a "You first" approach, always checking to see how each of us was faring, never asking for himself.
Nathan is survived by his two son's, Nicholas and Samuel, Mother of the boys Faith Fisher, sisters Heather and Erin, Brother Trevor, half siblings Katelyn, Rebecca and Ryan, his Mother Cheryl, his Father Ken and Ken's wife Nancy.
Calling hours will be held at Smith and Walker Funeral Home, Putnam, CT, Friday April 28th, 6pm to 8pm.
In lieu of flowers Donations can be made to Samuel and Nicholas Grist Care of Ken Grist, 61 lima St Willimantic, CT 06226.
Share a memory at www.smithandwalkerfh.com