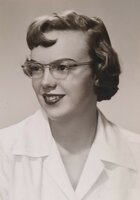 Elinor MacDonald
Elinor Janet MacDonald, nee Batterson, aged 89 years old, died Thursday, April 20, 2023, in New Providence, New Jersey with her family around her. She was born September 25, 1933, in Danbury Conn to Arthur and Alice Batterson (nee Dorothy). She lived with her parents and her older sister and brother, Margaret and Henry, in Georgetown, Conn until 1947 when they moved to Bethel, Conn. She is a Bethel High School graduate class of 1951.
Elinor worked in Baltimore, MD after graduating from Smith College, class of 1955. She was a welfare worker. There she learned to survive hot summers by sprinkling water drops on the sheets. After a year in Baltimore she moved to Berkeley, CA and worked for Tim Leary at the University of California Berkeley Psychology Research Department where she made lifelong friends. Her father loved to tell the story of Elinor driving to California on her own in 1956 and putting a quart of oil into her old car every 100 miles from a carton in the back seat.
Elinor moved back east in 1957 and worked for Baldridge Reading Services until 1958. She met her husband, Bernie MacDonald, while supervising him at Baldridge. They married six months after they met, in August 1958. She and Bernie had two children, Stephen Angus and Ann Sara.
Elinor received a master's degree in counseling at the University of Conn and worked as a counselor at the Willimantic State College, now Eastern Connecticut State University. After a 2-year sabbatical Elinor started at Quinebaug Valley Community College as a developmental reading and writing instructor. She obtained a second Masters in psychology from the University of Rhode Island in 1986 and taught psychology, including chairing the department. She retired from Quinebaug in 1992.
Elinor loved reading and writing all her life. After caring for her parents as they aged, she wrote a memoir, All the Way Round, recounting that experience and her family life growing up in the depression. Her family had enough during the depression as her father worked for a general store, but not much more. Her mother often worked as a seamstress. Elinor also wrote two unpublished romance novels. She was close to her sister, Margaret Gradia, until her death in 2014. Her brother Henry passed away in 1986.
Elinor and Bernie loved to entertain and invite friends to dinner. They had many parties, including a legendary costume party in the 1970's. Topics at the parties covered anything from poetry to the Black Panthers. They hosted the "Failed Poets Club" often at their house and supported their artist and writer friends with great joy. They spent summers in Prince Edward Island at Bernie's grandparents' farmhouse. It was beautiful, remote and rustic with no running water (until 1997) where they hosted many friends.
Elinor was whip smart, very funny, and sometimes tough. She once mentioned she never got less than an A for a class grade. (Until statistics in her psychology masters!) She was a great cook and a meticulous craftswoman with sewing, painting, and photography in addition to writing. Her daylilies were spectacular. She had the gift of making friends her whole life and loved to talk with people. She gave much love and encouragement to her children and grandchildren.
Elinor suffered from dementia her last few years but never forgot her husband. Their 60-year marriage was always clear to her. He once wrote a card to, "My dear darling loving sweet, lovely wife." Bernie passed away in 2018. She kept an optimistic outlook even as things became muddled. She was positive and loving, delighted to see her children and grandchildren. She will be sorely missed by family and many friends for her kindness and intelligence, and always for her sense of humor. She was loved.
She is survived by her son, Stephen MacDonald and daughter-in-law, Karen Bate; her daughter A. Sara MacDonald and son-in-law, Rob Barnett; her grandchildren Catherine MacDonald (Tom Nash), Amanda Sorapuru (Adrian), Julia Wunnenberg (Alex), Jessie MacDonald and Dylan Barnett; her great-grandsons, Beau MacNash and Zeke Wunnenberg; and her niece Suzanne Picone (Tom.)
There will be a viewing Thursday, April 27, 2023, at the Gagnon and Costello Funeral Home at 33 Reynolds St., Danielson, Ct. from 3:00 – 5:00 pm. gagnonandcostellofh.com phone: 860-774-9403.
If you wish to make a donation in her memory, please contact the Nature Conservancy at 800-628-6860 or go online: https://www.nature.org/en-us/membership-and-giving/donate-to-our-mission/other-ways-to-give/ and choose "make a memorial donation." You can also have a glass of wine and toast her memory, she would love that. Share a memory at Gagnonandcostellofh.com