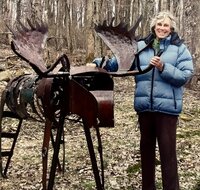 Helen-Marie Dearden
Helen-Marie (known to friends as HM) Dearden (nee Borden), 96, died on April 27, 2023 at her home in Woodstock, CT. HM was born July 31, 1926 to George and Rachel Borden (nee Guerin) in Riegelsville, PA.
She attended William and Mary College in 1943 where she met her husband John. They were married in 1945 and moved to Philadelphia where she attended Temple university and taught Chemistry, receiving her Masters Degree in Chemistry in 1949.
John and Helen-Marie had 5 children from 1949 to 1963 living in Huntington Woods, MI until moving to Lexington MA in the 1959.
HM was an excellent cook, an avid gardener, enjoyed sewing and quilting, and read voraciously –particularly historical nonfiction. HM was adventurous and eminently practical - there was little that kept her from accomplishing a thing that needed doing.
Helen-Marie is survived by her son John Dearden of Chelmsford, MA, her daughter Rachel Rothstein of Asheville, NC, her daughter Ruth Dearden. HM is predeceased by her parents George and Rachel Borden, husband John Dearden, sons Robert George and Thomas Allan (TAD), and her sister Jane Carney nee Borden.
Services will be private. In lieu of flowers donations may be made to a charity of one's choice if you wish.